Guru Design LLC was founded by and still is owned by Thomas J. Yarsley, who is known to family, friends, and colleagues simply as "Yars." The firm is located in the western part of Massachusetts, at the crossroads of I-90 and I-91. Straddling the Connecticut River, the "Pioneer Valley" has a long and rich history of technological innovation; Yars and his colleagues are proud inheritors of its tradition of "Yankee ingenuity." <![if !supportLineBreakNewLine]><![endif]>
<![if !supportLineBreakNewLine]> <![endif]>
<![if !supportLineBreakNewLine]>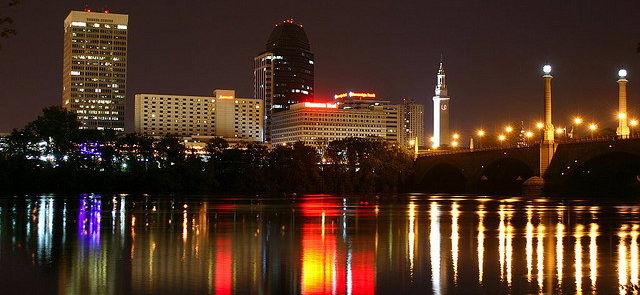 <![endif]>
Downtown Springfield, Massachusetts, as seen looking eastward from our location in West Springfield
Until 2012, our bread and butter exclusively was offering technology-focused consulting services and solutions, including contract product design and low-volume manufacturing. We keep our customers' costs as low as we can, in part by keeping our own overhead costs to a minimum. We do this by organizing our staffing around a project-based model. This practice became increasingly popular over the last 25 years or so; in the 21st century, "outsourcing" is an accepted global paradigm – all kinds of organizations, large and small, do a surprising amount of it every day.

Simply put, Guru is a managed collection of experienced technical talent – a flexible virtual project team, if you will. It is not a head-hunting firm, nor is it a "job shop" that supplies hourly talent in various disciplines. It is an affordable full-service consulting and design house that is small enough to offer a personal touch, but capable enough to get your job done.

Most of our customers are larger organizations – some quite large – who neither have nor wish to acquire ample internal capacity to execute some project or organizational function. We've done work for entities in both the private and public sectors; for-profit firms and non-profit organizations; government and military customers. The common thread is that we take the time to understand our customers' objectives and needs, allowing them to leverage our expertise into an attractive value proposition. And because most of our work has been challenging bleeding-edge stuff, we get to have fun while we're doing it!

Many of our customers prefer to keep our relationship unseen. Whether it's a classified military project or just a case of not wanting to reveal a resort to outsourcing, we know how to be discrete. We make a very nice living by being helpful; our customers can take the curtain calls. We encourage you to contact us, to engage in a dialogue about how we might be helpful to you.

Historically, as a small independent design house, we've offered customized solutions to our client organizations, and we've had no stable of in-house standard products that we offered for sale. Yet, over time, many clients have expressed a desire for larger, more-comprehensive software solutions whose development costs would vastly exceed their individual project budgets.
In response to those desires, in 2008 Guru began work on an internal development project with the goal of creating an enterprise-class commercial product to address clients' needs. In 2011, another long-time customer approached us with a specific project need, but our analysis concluded that development of a proprietary solution was well beyond their budgetary constraints. A member of our development team pointed out that what the client was asking for was basically a standalone implementation of a small feature subset of the large product that we already were working on. That insight eventually led to a decision to create a focused, simple front end interface to the elaborate SQL back end database of the larger product.
The result is the 2012 release of the first member of a planned family of Silverlight SaaS web applications, under our SPARQi brand – a hosted solution for our customer, at less than 2% of the cost of developing a proprietary application.
SPARQi ERM (Event Records Management) is a comprehensive solution to managing the operations of players in the cottage industry that has evolved around providing Continuing Education and Professional Development services for the one-of-every-seven American workers whose jobs require some kind of a professional or trade license.
SPARQi serves the needs of the CE/PD industry's four stakeholder groups
License-holders

Provider organizations

Presenters of course material

Regulatory/oversight bodies
b
y uniting their logistics with their recordkeeping, and by uniting their Enrollment, Payment, and Education activities in one comprehensive, easy-to-use application.
You can access the SPARQi website by clicking on the SPARQi mascot image below.